Manual Para Fabricar Un Terrorista 2010 España
Documentary, Castellano, English and Czech subtitles
"Manual on how to create a terrorist" with English subtitles
"Manuál na výrobu teroristy" s českými titulky
92 min HD video_ Spain / 2012
director Tereza Reichová
script Tereza Reichová, kristýna Toupalová, Toy Box, Vladimír Turner
editor Kristýna Toupalová
art director Toy Box
director of photography Vladimír Turner
production Alice Taberyová
produced by FAMU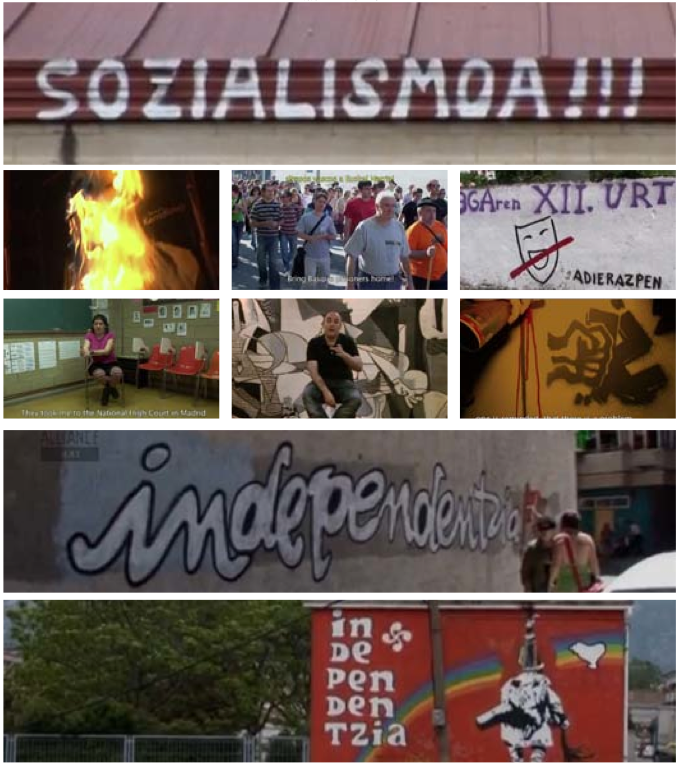 Česky
U politických graffiti baskické Navarry zastavuje režisérka – cizinka kolemjdoucí a nechává si vysvětlit, co která znamenají, a proč je kdo nakreslil. Celovečerní dokumentární film o represích, antiteroristickém zákonu a o tom, co se děje uvnitř našich společných hranic.
Castellano
La directora del documental viene desde La República Checa y aterriza en Navarra-Nafarroa. Se detiene ante las pintadas políticas que asoman por las paredes y detiene a la gente preguntándoles qué significan, porqué se pintaron y qué hacen ahí. Un largometraje sobre la represión, la ley anti-terrorista y los acontecimientos que ocurren dentro de Euskal Herria.
English
In the Basque region of Navarra, the director – a stranger – stops passers by next to pieces of political graffiti, letting them explain what they mean and why they were painted. A feature-length documentary about repression, the anti-terrorist act and the events that happen within our common borders.
→ more