PALS Festival in Stockholm
26/10/2015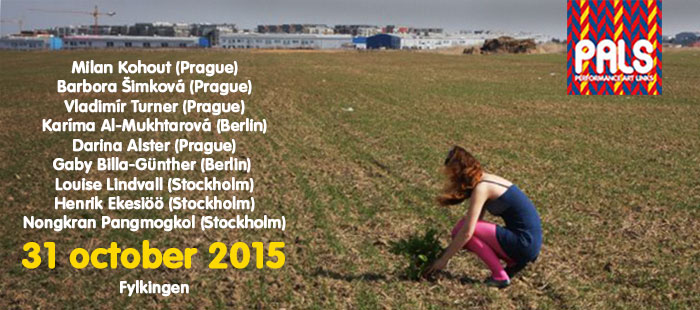 I will take part in PALS Festival of performance.
PALS festival will take place at Fylkingen in Stockholm on 31 October 2015
Finally it is time for the second part of PALS PLAY TAG! – cultural exchanges with fantastic international performance artists at Fylkingen!
Pals Play Tag! is a collaborative exchange project between PALS-performance art links from Stockholm, Ferdinand Baumann Gallery from Prague and the Czech centre in Stockholm. This is a first step to connect these two vivid and diverse performance art scenes. The two collaborating art organizations have several years of history and they represent the young emerging performance art scene in their own domestic and international context. Their first exchange took place during "Hunger" performance festival from 22 to 23 May in Prague this year. The second stage in Stockholm is part of a series of new international exchanges of performance art organized by PALS with other art initiatives abroad (a previous event was held at Fylkingen this year; Pals Play Tag Part One: Poland-Sweden).
→ more