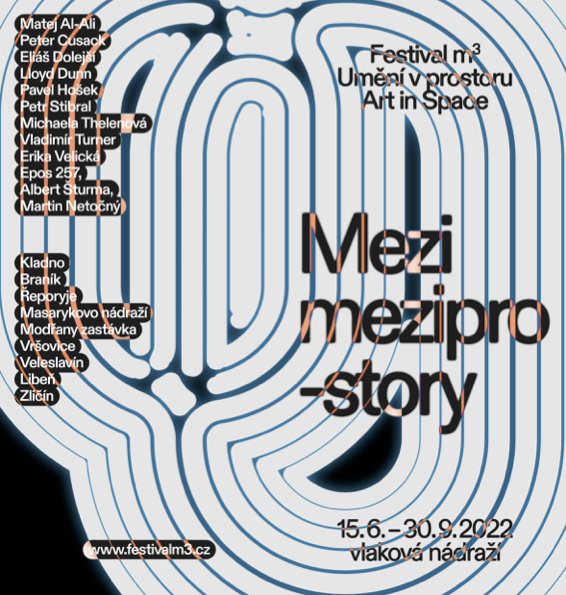 My new installation called Carriage will be visible this summer at urban intervention Festival M3 on different railway stations in Prague 15. 6.—30. 9. 2022.
The reality of railway station buildings, railway tracks and their surroundings co-creates the clear boundaries of the concept of this year's Festival m³ / Art in space. In their immediate vicinity, levels of meaning immediately emerge – social, political-aesthetic, architectural, historical, urban, ecological.
We can probably generally agree on the statement that the railway station environment is typical of a peculiar poetics. This is why, for example, in Jaroslav Rudiš's recently published book, we can also encounter critical comparisons of today's state-of-the-art railway stations to a "sparrow's nest", a "hospital autopsy room", a "mouse hole made of glass and steel", a "cemetery", a "shopping mall", a "horrendous department store", a "marketplace", a "circus tent", and, in the opposite sense, a romantic memory of a railway station as a "cathedral of transport". We absolutely understand the emotional colouring of these expressions because, from our own experience, we can easily recall stations that are tiny, oversized, designed for freight transport, insensitively modernised, abandoned, overgrown, closed and dilapidated. Behind these visible signs, however, there are usually more hidden levels, sometimes as a result of rather problematic processes.
The dilapidated ruins of railway station buildings can be indicative of a protracted solving of property rights to them. The lifeless neatness of the tracks is due to the repeated widespread application of poisonous herbicides. In the vicinity of railway stations and tracks, we encounter numerous uncontrolled zones, the so-called "new wilderness" (Jiří Sádlo), with the indeterminate identity of "empty spaces" (Michal Ajvaz), "vague terrains" (Radan Haluzík), which, however, can be characterised by an exceptionally diverse representation of plant species. The relationship between the city and investors in planning the use of such free/natural zones is often problematic, yet the ill-defined terrain can be intelligently and sensitively reflected and integrated into the urban space in an appropriate and urbanistic way in the important green areas of the city.
Interesting areas around dead-end train lines show us how nature is slowly reclaiming its space. The specific poetry of station environment and train ride brings with it the experience of a "different" space and time, of specific sounds. The linear nature of the railways running through the city, at times rendered invisible by tunnels, naturally connects the centre and the periphery. It provides the possibility to find oneself between spaces and between times, between interspaces. The modernisation of station buildings currently underway can also bring very dismal results. Some empty station buildings have long been waiting for an intelligent conversion, for a new meaningful life. For example, the question of whether the cost-effectiveness of rail transport is a truth or a myth is also food for thought. A current issue is the incorporation of rail transport into the public transport structure, with the possibility of relieving the congested city centre while strengthening connections to isolated suburbs. We have the space-time of a railway station connected with the expectation of events according to a prescribed schedule. We notice how the surroundings of the railway lines are tamed – fences sprout up, overhanging branches are immediately cut off, areas of "safe" visibility are expanded. It is as if the space itself is asking for the input of aimless creativity. This year's festival's artistic interventions in and around the diverse spaces of railways, railway stations and their surroundings attempt to highlight the inventive and meaningful cultivation of public space, dilute social and local stereotypes, and initiate stimulating public debates on a number of the themes outlined above.
Curators Dagmar Šubrtová and Iva Mladičová
https://www.festivalm3.cz/eng/
→ more