Black & Red show Strasbourg
31/10/2022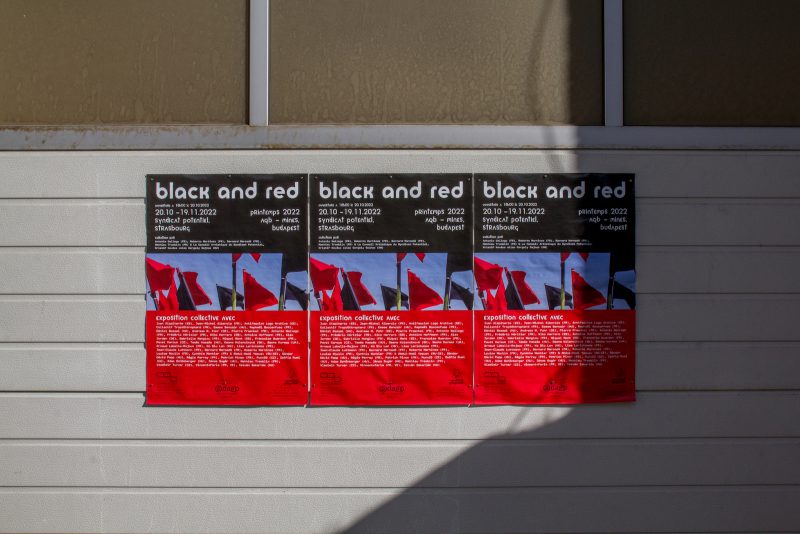 Following the two group exhibitions "Noires et
Rouges" that took place in 2019 at the Cervantes
Institute in Paris and at Syndicat Potentiel in
Strasbourg, we propose two new exhibitions entitled
"Black & Red": one at AQB – Cellar in Budapest
(Hungary) and the other at Syndicat Potentiel in
Strasbourg (France); each one is adapted to the
place and produced with the support of ADAGP.
We would like to update the scope of the reflections
that took shape during the period of the Spanish
Civil War that heralded the World War ii; inventive
mixtures of life and art, realized utopias and
ideologies in combat.
At the gates of the European Union, which has
already been eroded by the Covid-19 pandemic, the
Russian invasion of Ukraine brings to mind images
of the destruction of European cities during the
Second World War and the columns of thousands of
refugees fleeing the murderous bombardments.
It is in the context of this European drama that
we are launching a new cycle of exhibitions on
the question of democracy and anti-fascism today,
of the ideological, social and artistic values at
stake, in view of the tensions in Europe between
2000 and 2030.
As at the time of the Retirada (Spanish Civil
War refugees exodus), the fight against fascism,
the issue of immigration and the welcoming of
refugees in Europe are at the heart of current
events. The artists in the exhibition "Black &
Red" offer a view on the present situation.
with, in Budapest :
Juan Aizpitarte (ES), Jean-Michel Alberola (FR), Collectif Troptôttroptard (FR), Emese Benczúr (HU), Dániel Bozzai (HU), Andreas M. Fohr (DE), Antonio Gallego (FR), Frédéric Héritier (FR), Kiko Herrero (ES), Antoine Hoffmann (FR), Gabrielle Manglou (FR),Miquel Mont (ES), Francoise Quardon (FR), Pavel Karous (CZ), Tamás Kaszás (HU), Deana Kolencíková (SK), Sasha Kurmaz (UA), Arnaud Labelle-Rojoux (FR), Ko Siu Lan (HK), Lise Lerichomme (FR), Jean-Claude Luttmann (FR), Bernard Marcadé (FR), Roberto Martinez (FR), Louise Moulin (FR), Cynthia Montier (FR) & Abdul-Hadi Yasuev (RU–CE), Sándor Dávid Papp (HU), Patrick Pinon (FR), Punx23 (CZ), Zsófia Rumi (HU), János Sugár (HU), Mathieu Tremblin (FR), Vladimír Turner (CZ), István Zakariás (HU)
with, in Strasbourg :
Juan Aizpitarte (ES), Jean-Michel Alberola (FR), Antifascist Logo Archive (DE), Collectif Troptôttroptard (FR), Emese Benczúr (HU), Raphaël Boccanfuso (FR), Dániel Bozzai (HU), Brad Downey (US), Andreas M. Fohr (DE), Pierre Fraenkel (FR), Antonio Gallego (FR), Frédéric Héritier (FR), Kiko Herrero (ES), Antoine Hoffmann (FR), Alex Jordan (DE), Gabrielle Manglou (FR), Miquel Mont (ES), Francoise Quardon (FR), Pavel Karous (CZ), Tamás Kaszás (HU), Deana Kolencíková (SK), Sasha Kurmaz (UA), Arnaud Labelle-Rojoux (FR), Ko Siu Lan (HK), Lise Lerichomme (FR), Jean-Claude Luttmann (FR), Bernard Marcadé (FR), Roberto Martinez (FR), Louise Moulin (FR), Cynthia Montier (FR) & Abdul-Hadi Yasuev (RU–CE), Sándor Dávid Papp (HU), Régis Perray (FR), Patrick Pinon (FR), Punx23 (CZ), Zsófia Rumi (HU), Adam Schönberger (HU), János Sugár (HU), Mathieu Tremblin (FR), Vladimír Turner (CZ), Vincent+Feria (FR, VE), István Zakariás (HU)
BLACK & RED
13.05–04.06.2022
art quarter Budapest – mines,
budapest
20.10–19.11.2022
syndicat potentiel,
strasbourg
Curation
Antonio Gallego (FR), Roberto Martinez (FR), Bernard Marcadé (FR),
Mathieu Tremblin (FR) & Le Conseil Artistique du Syndicat Potentiel,
Kristóf Kovács A.K.A Gergely Sajnos (HU)
→ more